You are here
New Limited Submission Process
New Limited Submission Process
​​
We are pleased to announce our streamlined Limited Submissions process, database, and web page!
Use our new InfoReady Calls for Intent Limited Submissions website when you want to:
Declare your intent to submit for a funding opportunity that is limited, and may require a competition 
 
Apply for an internal limited submission competition and submit all the materials securely and in one place
Our new process and website tool make it easier and more consistent to manage. Learn more from our presentation about this launch at the October Research Administrators Network (RAN) Meeting.
Modified Weekly Announcements
First, beginning Friday, January 13, 2017, our weekly announcements will now contain both Calls for Intent to Submit and current Limited Submissions (see items 1 and 2 in the image on the right).
Staff from the U-M Office of Research (who curate,  announce, and facilitate these competitions) will send this comprehensive message each week with ALL current limited opportunities.
New Process
When you see a funding opportunity in the communication that captures your interest, instead of declaring your intent to submit via an email to  UMORlimitedsubmissions@umich.edu,you will link to our new Limited Submissions website,  and choose Apply. Follow the prompts to provide your contact information.
Likewise, if you are participating in a Limited Submission competition, instead of sending us an email with attachments, you will apply and submit your materials through our Limited Submissions website.
We are using the InfoReady software engine to help manage this website workflow, to streamline submission, routing, and review processes. 
New Limited Submissions Landing Page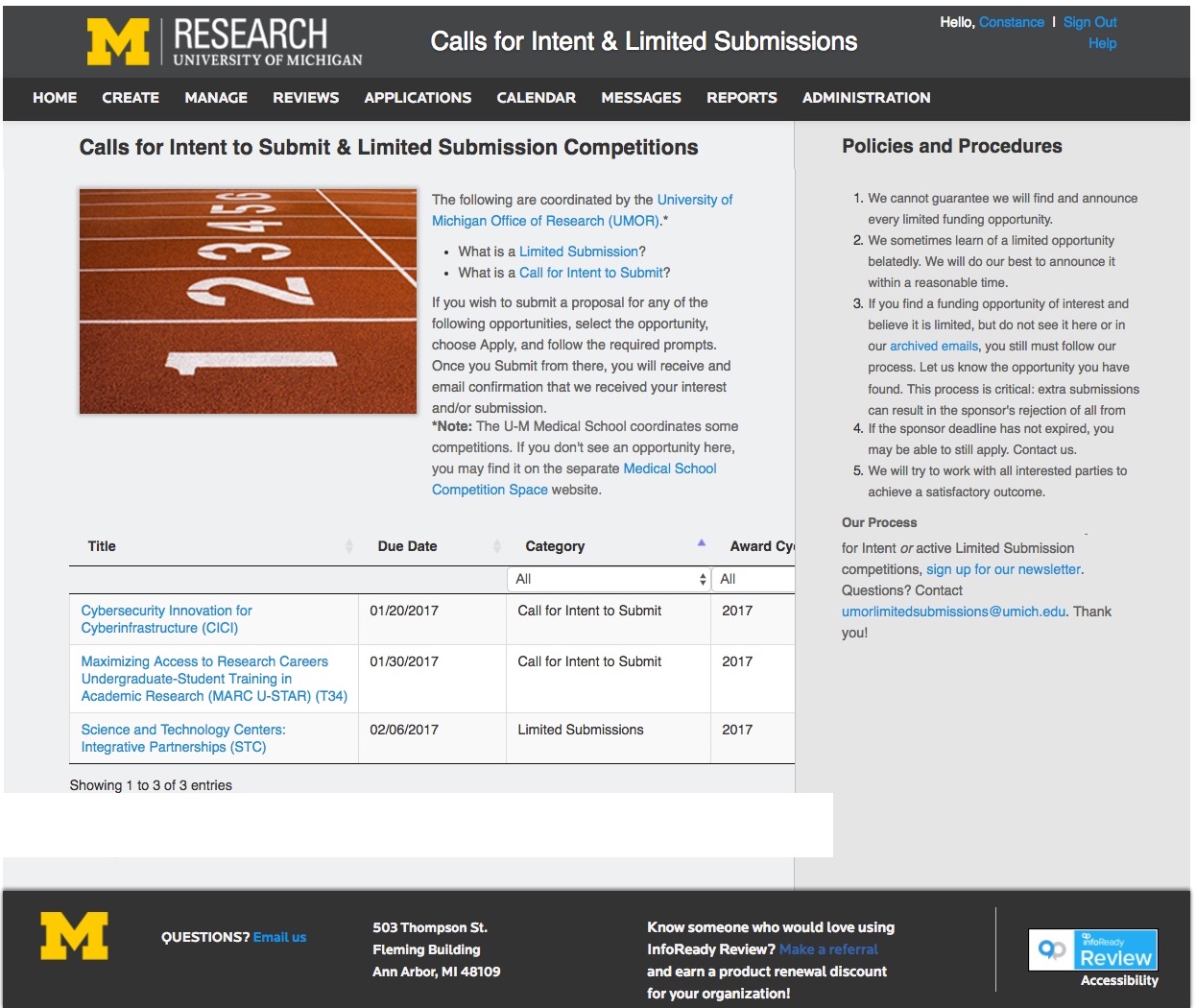 Our new Limited Submissions website provides both the Calls for Intent to Submit and the current Limited Submissions. Applying online will ease your process and provide you with a single and secure destination for your attachments. If submitted correctly, you will receive a confirmation.
What is a "Call for Intent to Submit" Process?
The Call for Intent to Submit process relates to the many Limited Submission funding opportunities that exist -- about 250 funding opportunities each year from various sponsors.
We don't need to reserve competition dates for each opportunity if interest does not exist. So we prepare a weekly communication listing opportunities and asking for a show of hands to determine interest. If interest exceeds the sponsor's institutional limit, the U-M Office of Research may hold an internal Limited Submissions Competition and announce it at a later date. 
Interested parties declare their interest for a Call for Intent to Submit and/or submit competition materials for a Limited Submission competition, through our InfoReady Limited Submissions website.
What is a Limited Submission Competition?
A Limited Submission is a funding opportunity in which the sponsor sets an institutional limit for the number of proposals it will accept. To participate, the University must organize to submit our most competitive proposal. This requires an internal competition. The process is critical; extra submissions can result in the rejection by the sponsor.
How can I sign up for the Newsletter that Announces them?
To be informed of the opportunities we have identified, you can sign up for our Weekly Call for Intent and Limited Submission communication. We now communicate both the Calls for Intent to Submit and the Limited Submissions in a single communication.
If UMOR opts to host an internal competition, we will announce it through email communications and on this new website.  
If you wish to submit a proposal for any of the following opportunities, select the opportunity, log in, follow the prompts, and choose Apply. 
If, after the Limited Submission competition, you are selected as the institutional nominee, you will be provided with a system-generated notification that you can attach to your Proposal Approval Form (PAF) in the eResearch Proposal Management (eRPM) system.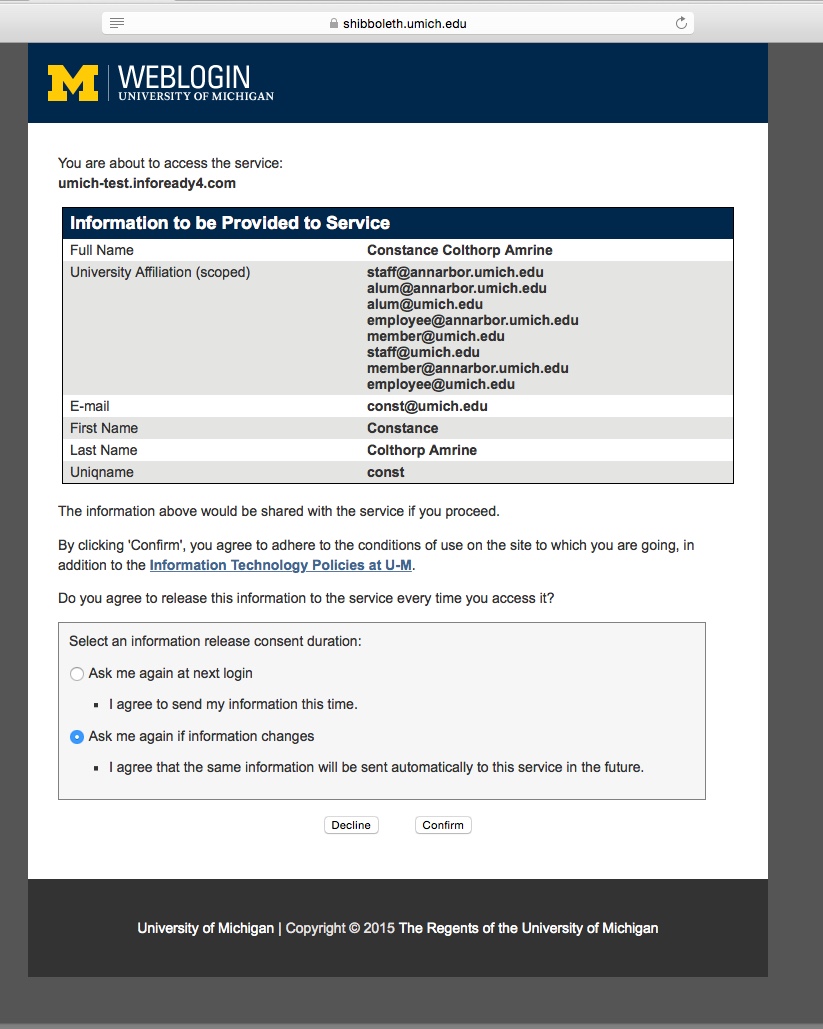 Troubleshooting and Things to Note
When applying, you will be prompted to login. If you are affiliated with the University of Michigan, you need to use your uniqname and Kerberos password.  
Upon logging in for the first time, the following screen may appear. This is standard when we use third party services, and we need to adhere to University policies on those related sites. Just choose "Ask me again if information changes" and Confirm.
Share Your Experience
As you proceed with this new process, please let us know if you have questions or feedback. Like you, we want to avoid paper trails, email threads, or missing data, or attachments in multiple places! We will transition from our current manually-managed landing page to this new Limited Submissions web portal. We will work to redirect the links to make it as seamless as possible. Thank you!
For questions, contact UMORlimitedsubmissions@umich.edu.
Posted on:
Friday, January 13, 2017 - 16:36