You are here
Diversity Equity and Inclusion (DEI) at ORSP
Diversity Equity and Inclusion (DEI) at ORSP
ORSP DEI Media Club
The DEI Media Club is one of the initiatives sponsored by the DEI Internal Experience Subcommittee. The Media Club plans and holds discussions around DEI-related books, articles, podcasts, videos, films, and more.
DEI Newsletters
ORSP DEI Newsletter
RAAC
The Research Administration Advisory Council (RAAC) also publishes a DEI newsletter:
UMOR/OVPR
ORSP is a unit of the U-M Office of Research (UMOR). Visit the UMOR DEI webpage. UMOR and the Office of the Vice President for Research (OVPR) also publish a DEI newsletter:
ORSP DEI Committee Members
Hilary Bond
Linda Chadwick
Constance Colthorp (co-chair)
Cindy Dames
Debra Dill
Daniel Garber
Manny Pierce
Joe Johnson
Lisa Kiel
Tracey Larkin
David Mulder
Craig Reynolds
Amy Webb
ORSP is committed to Diversity, Equity, and Inclusion (DEI). This page features our vision and definitions of DEI and some of the recent efforts by the DEI Committee members and subcommittees.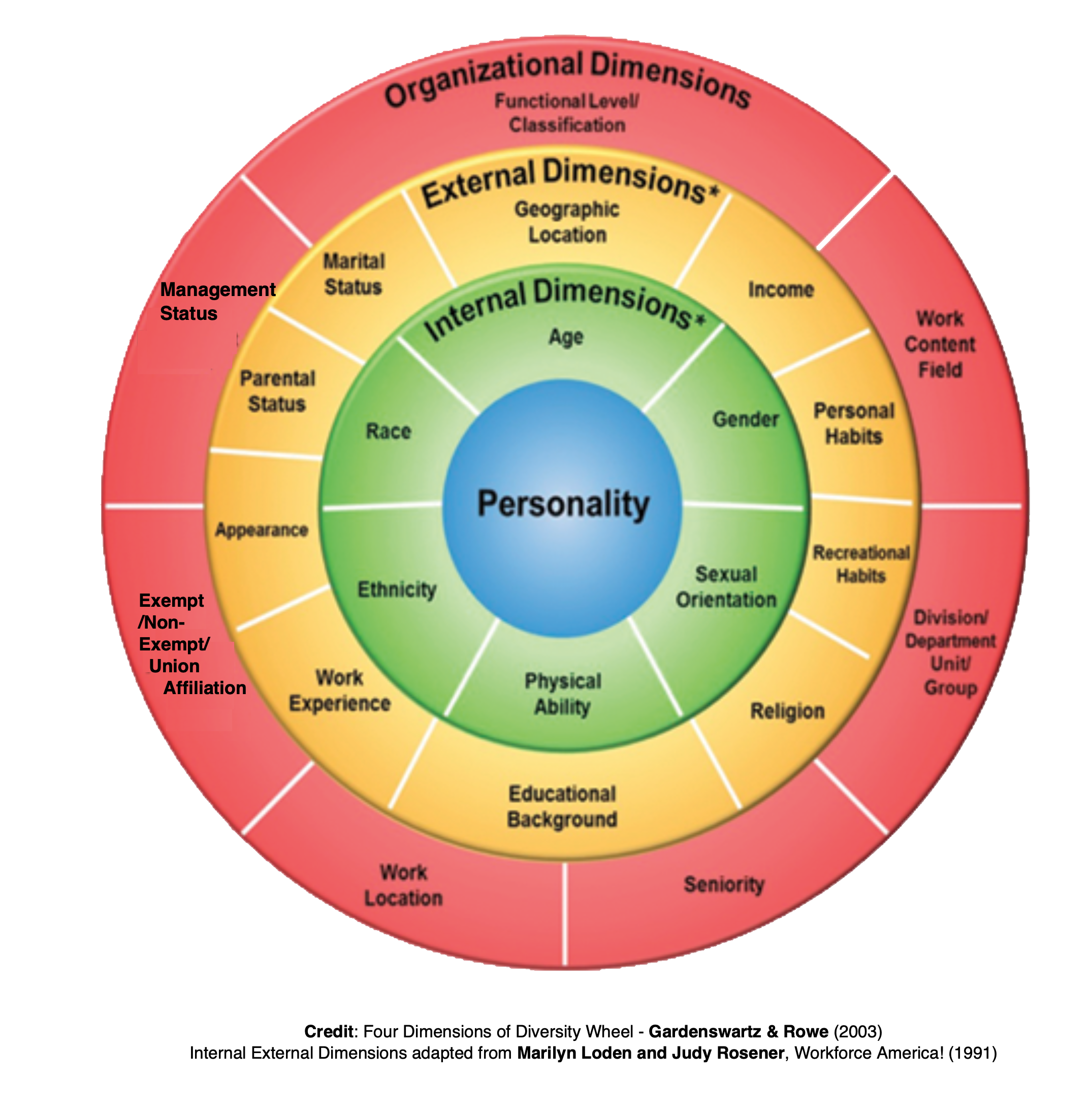 Credit: Four Dimensions of Diversity Wheel - Gardenswartz & Rowe (2003) 
Internal External Dimensions adapted from Marilyn Loden and Judy Rosener, Workforce America! (1991)
Our Vision for DEI at ORSP
ORSP strives to have an office environment where:
DEI is embedded in our organizational culture and recognized as a guiding principle, a source of our strength, and a means to our continued improvement, growth, and success.
ORSP is an inclusive and welcoming place for all.
ORSP actively seeks that every member of the ORSP staff feels safe and valued for who they are and for their contributions toward ORSP's goals.
ORSP employees may show up each day as their authentic selves, secure in knowing that they will always be treated warmly, respectfully, and as a peer of equal standing.
Every ORSP staff member receives due consideration and fair treatment concerning compensation, workload, and access to the resources and opportunities that ORSP provides.
Across the broader U-M and sponsor communities, every person with whom ORSP interacts is treated ethically, fairly, and with dignity.
Our Definitions of DEI
ORSP aligns with the University of Michigan definitions of diversity, equity, and inclusion. Diversity utilizes the Four Dimensions of Diversity Wheel that encompasses organizational, external, internal, and personality dimensions. 
Organizational dimensions relate to one's position in the organization (exempt or non-exempt, field, job, office culture).
External dimensions relate to where we live, how we appear, what we wear, our socio-economic backgrounds, work experience, language, accent, religion, work experience, or personal habits.
Internal dimensions include gender identity, race, ethnicity, race, native or indigenous origin, age, and physical ability or attributes (seeing, hearing, speaking, size, voice, or more). religion, belief system, marital status, parental status, socio-economic difference, appearance, language, and accent
Personality includes an individual's likes and dislikes, behaviors, strengths, values, and beliefs. 
ORSP's DEI Committee
ORSP's DEI Committee meets twice monthly and has developed subcommittees to focus on four areas: 
External experience - How do others perceive ORSP's commitment to DEI?
Human resources - How can ORSP ensure DEI in our recruiting, hiring, and retention efforts?
Internal experience - How is our staff growing and learning about DEI? How do we consider DEI in our celebrations?
Metrics, Assessment, and Reporting -  How can we survey our needs, measure, and report on our progress?
DEI External Experience Subcommittee
Description

This subcommittee focuses on efforts to enhance one's external experience of ORSP. How are we perceived? If you didn't know ORSP, would we demonstrate that we value DEI? What does our brand or office communicate about DEI?

Members

​Constance Colthorp
Cindy Dames
Joe Johnson
David Mulder

Activities & Accomplishments

DEI Newsletter
ORSP DEI Web Page
DEI and Human Resources Subcommittee
Description

This subcommittee focuses on enhancing how ORSP addresses DEI in our recruiting, hiring, and retention efforts.

Members

Linda Chadwick
Debra Dill
Dan Garber
DEI Internal Experience Subcommittee
Description

This subcommittee focuses on efforts to enhance one's internal experience with DEI. How does ORSP incorporate DEI into our staff education and office culture? Is our staff growing and learning about DEI? How do we consider DEI in our celebrations?

Members

Hilary Bond
Lisa Kiel
Tracey Larkin

Activities & Accomplishments

Media Club
ORSP Passport (in progress)
External Courses and offerings
DEI Metrics/Assessments/Reporting Subcommittee
Description

This subcommittee focuses on measuring and quantifying how we work with DEI, creating surveys, key performance indicators, tools, and spreadsheets to help ensure we have metrics on our DEI efforts.

Members
Activities & Accomplishments