You are here
FAQs for eResearch PAF Question 5.13- Significant Effort Outside of United States
FAQs for eResearch PAF Question 5.13- Significant Effort Outside of United States
This page will help you understand how to answer question 5.13 on the eResearch Proposal Approval Form (PAF).
The eResearch Proposal Approval Form (PAF) has a required question 5.13 that relates to the foreign component of work, or the portion of project work that will be performed outside the United States. If the answer is yes, you are asked to select the country(ies) from a drop down list.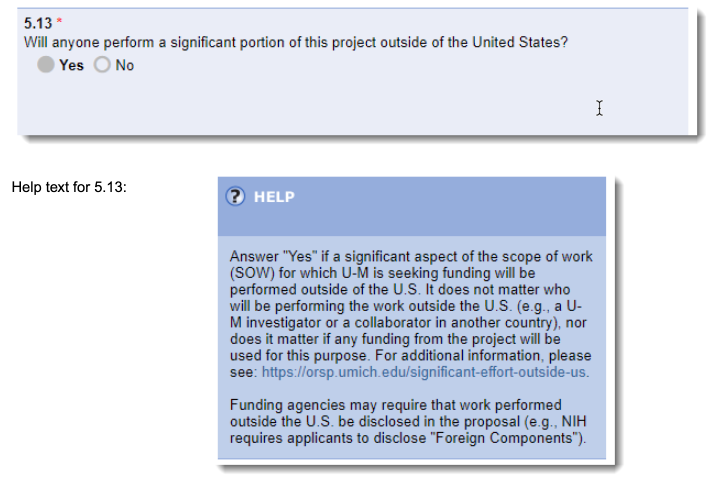 eResearch Question 5.13:
"Will anyone perform a significant portion of this project outside of the United States?"
Help Text: "Yes" if a significant aspect of the scope of work (SOW) for which U-M is seeking funding will be performed outside of the U.S. It does not matter who will be performing the work outside the U.S. (e.g., a U-M investigator or a collaborator in another country). Nor does it matter who is funding the work, if at all. Funding agencies may require that work performed outside the U.S. be disclosed in the proposal (e.g., NIH requires applicants to disclose "Foreign Components").
Additional U-M FAQs to Aid in Answering Question 5.13
Questions?
If you have questions (that are not related to your school's or college's implementation of this policy), reach out to your ORSP project representative.