You are here
NIH eRA, RPPR and xTrain at University of Michigan
NIH eRA, RPPR and xTrain at University of Michigan
I need an eRA Commons ID to submit my RPPR. Where do I start?
To begin using eRA Commons, you must register for a Commons ID. Please be sure to use your U-M email when completing the registration.
[ Requires your U-M uniqname and Kerberos password ]
Once the eRA Commons ID is established, a PI can assign privileges to staff and collaborators of updating personal profiles and assisting in submitting a non-competing renewal.
[Kerberos password login may be required]
This page is designed to provide U-M project teams (research adminstrators and principal investigators) with the necessary information to complete the required National Institutes of Health (NIH) Research Performance Progress Report (RPPR).
What is the eRA Commons?
The eRA Commons (electronic research administration commons) website, by the National Institutes of Health (NIH), that provides principal investigators and their research staff with online features and tools including the abilities to:
View a full application
Review current status of an application
Check for errors
View application assignment information
Obtain PDF copies of applications
Access copies of previous Notices of Grant Award
Get current information on the program official and the grants management specialist

More information from ORSP about using Grants.gov through the U-M eResearch Proposal System
What is an RPPR?
Progress reports are required annually to document accomplishments and compliance with terms of award. The RPPR process requires that progress report submissions begin 45 days prior to the budget start date. They update scientific progress, significant changes, personnel, and plans for the subsequent budget period.
How do I submit Progress Reports (RPPRs)?
Go to NIH's eRA Commons website and complete your RPPR.
Run the check for errors before routing to ORSP. There is nothing we can do with it unless the errors are resolved.
In the Route step, be sure you route it to the ORSP Government Team Project Representative assigned to your unit/school/college.

ORSP gets the email alert from eRA Commons and then ORSP goes into the eResearch Proposal Management System (eRPM) to see if the project team has returned its Key Personnel Financial Conflict of Interest (FCOI) spreadsheet and contacts the team if the form is not returned or the form is incomplete.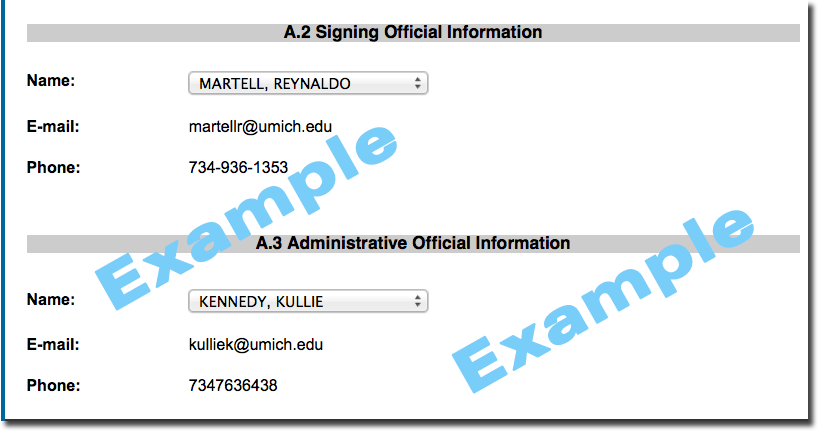 On the cover page, whom should I include as Officials?
Signing Official (choose your ORSP Project Representative)
Administrative Official (choose the ORSP Project Representative from your PAF)
Special Reporting - Performance Sites
Please remember that our Congressional District is now MI-012 (changed several years ago) and our address is 3003 S. State St., Ann Arbor, MI 48108.
Each performance site should only be listed one time.
What is this warning about a non-compliant publication?
If you have already consulted the helpful NIH Public Access site, and are still unable to come into compliance, the U-M Library staff may be able to assist. Send an email request for assistance to: nihms-library-support@umich.edu.
 xTrain 
The xTrain eRA Commons module provides PIs, university administrators, and trainees the ability to electronically process and submit appointment forms (the PHS 2271 Statement of Appointment form) and termination notices (the PHS 416-7 Termination Notice) associated with institutional research training grants and career development awards and electronically prepare and submit T32 and T35 Statements of Appointments, and T32, T35, F31, and F32 Termination Notices. 
Reports handled in eRA
Internet Assisted Review (IAR): The ability for a PI as a reviewer to submit critiques and preliminary scores for applications being reviewed.
Financial Status Reports (FSR): The ability for financial report filing via the Commons by the University's Sponsored Programs Office. Financial reports are submitted automatically by Financial Operations.
Closeout reports: The ability to submit final closeout reports electronically for grants that have ended. NIH closeout reports and questions should be addressed to orsp-nih-rppr@umich.edu.
Progress Report Change