You are here
Research Administrators' Network (RAN) Meetings
Research Administrators' Network (RAN) Meetings
RAN Webcast Playlist on YouTube
We also have videos listed below, or you can view the meeting via our RAN Playlist on YouTube.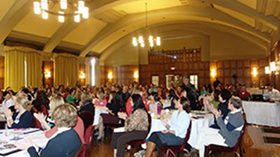 Access RAN Materials After Meeting
If you would like to review RAN slides after the meeting, find the Meeting Packet below under References and Resources.
Research Administrators' Network (RAN) meetings are meant to provide continuing education in the area of research administration along with opportunities for unit administrators to network with each other and with leaders in central administration. 
---
Upcoming 2022 RAN Meetings
Date: Thursday, October 27, 2022 
Time: 2:00 p.m. - 4:00 p.m.
Past Meetings
Scroll down to find a listing and links to past RAN meeting packets and videos.
---
Questions?
For questions about RAN, including ideas for future meetings, contact ran-plans@umich.edu.
If you have any questions about this page, the files, or the RAN webcasts, please contact Constance Colthorp, Communications Manager (const@umich.edu). Thank you!