You are here
NIH eRA Commons Registration
NIH eRA Commons Registration
eRA Commons is the National Institutes of Health's (NIH) electronic system required for managing NIH proposals and awards. U-M ORSP staff are the designated officials who register and update the NIH eRA Commons IDs for all U-M faculty, staff, and students. This page contains the U-M Google form for those requests.
You must first have signed into eResearch Proposal Management (eRPM) system for any request. Then, after doing so, you may use the U-M Google Form below (please do not request by email) for ORSP to:
create an ID
add or change roles (Principal Investigator, Postdoc, Scientist, Trainee T32, etc.)
affiliate your ID with U-M
Access and Signing in to eRPM is a Prerequisite to Requesting with this Google Form
IMPORTANT: We want to save you time! Before you complete this form for a future/existing Commons ID, you must:
Inform us of your Existing Commons ID for Role Changes
Provide your existing Commons ID for role changes. If affiliated with U-M, your existing Commons ID can usually be found in eResearch. Instructions: https://documentation.its.umich.edu/node/3162. If you are stuck, proceed with the form, and we will do our best to work with you to locate and verify your ID.
About eRA Commons Roles
If you are unsure about the Role or "Type of User" to select in the form, refer to the eRA Commons User roles on the NIH website.
---
U-M eRA Commons Request Form
After reading the instructions above, please use this form for all requests (please don't request by email) to obtain a new Commons ID or to add/remove roles to an existing Commons ID. Completion should take 1-3 minutes. If you cannot see the form below, you can Open the Registration Form in a new window.
What to Expect After
After ORSP completes your request, you will receive an email notification titled, "eRA Commons Notification of Authentication Credentials and New eRA Account" from era-notify@mail.nih.gov. This will allow you to reset a password. 
Login with Federated Account Recommended Over Password
Once you get a Commons ID and password to eRA Commons, we still encourage you to use the "Login with Federated Account" option for additional security. This eases your administrative burden in having to remember the password.
You still need the password for this option, and you need to make sure your Commons password has not expired, and renew accordingly. Otherwise, you will not be able to link your Commons account to the U-M federated login.
How to use the Federated Account Login
When you get to eRA Commons, select the University of Michigan. You'll be prompted to log in using your U-M two-factor authentication to access the Commons. No need to remember your eRA Commons User ID or Password.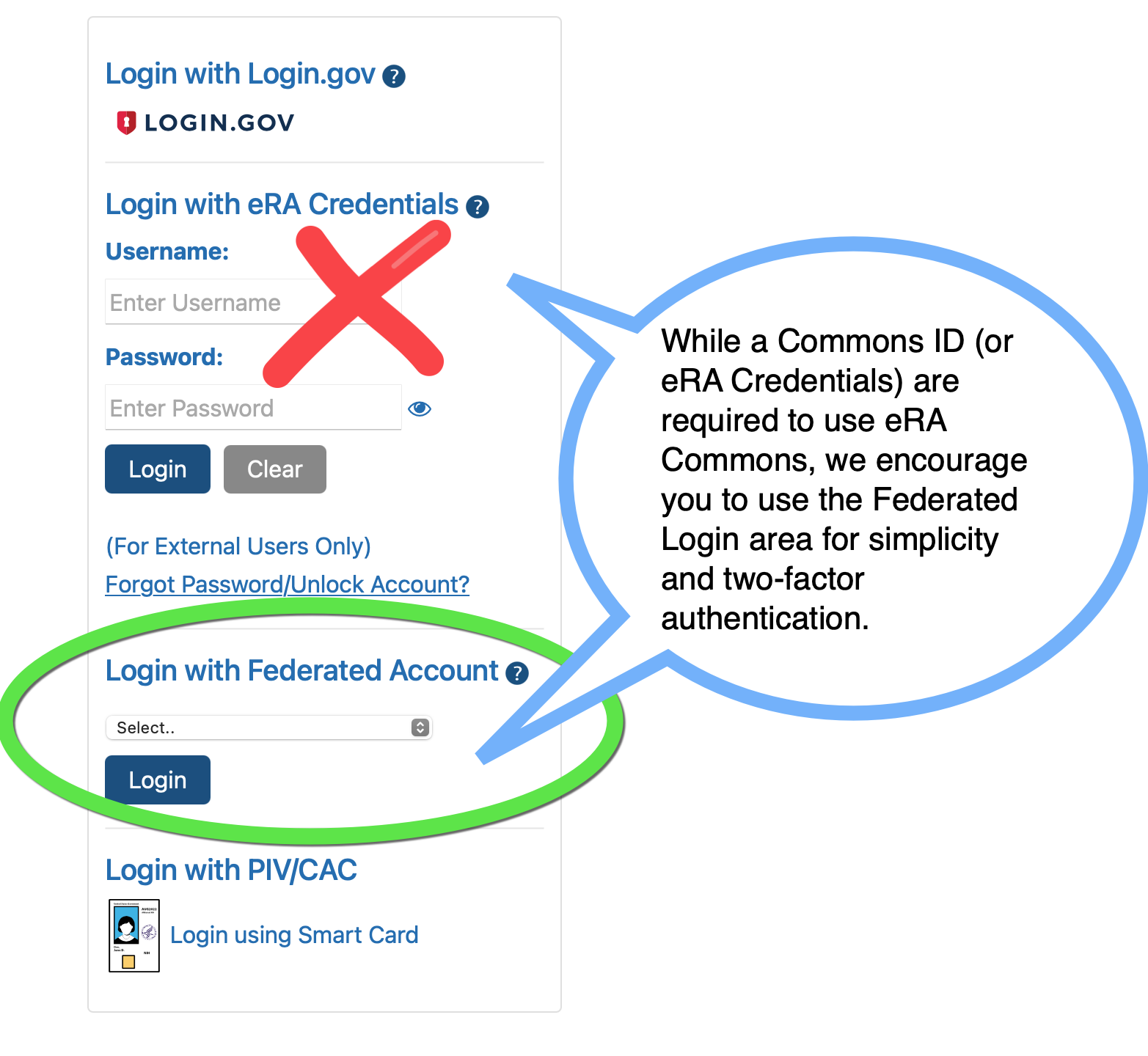 Questions?