You are here
Research Administrators' Network (RAN) Meetings
Research Administrators' Network (RAN) Meetings
RAN Webcast Playlist on YouTube
We also have videos listed below, or you can view the meeting via our RAN Playlist on YouTube.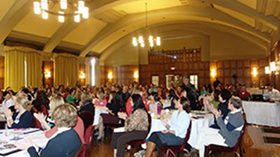 Access RAN Materials After Meeting
If you would like to review RAN slides after the meeting, scroll down and you will find the Meeting Packet and videos below the gold line and the References and Resources heading.
Research Administrators' Network (RAN) meetings are held three times a year -- typically in October, February, and May. RAN meetings are meant to provide continuing education on U-M research administration topics, along with a chance to hear from unit administrators and leaders in central administration. Since May of 2020, our meetings have been entirely virtual. Please join us!
---
Upcoming 2024 RAN Meetings
Date: Thursday, February 22, 2024
Time: 2 to 3:30 pm
Date: Thursday, May 16, 2024
Time: 2 to 3:30 pm
Date: Wednesday, September 25, 2024
Time: TBD
Past Meetings
Scroll down below the gold line to find links to present and past RAN meeting packets and videos.
---
Questions?
For questions about RAN, including ideas for future meetings, contact ran-plans@umich.edu.
If you have any questions about this page, the files, or the RAN webcasts, please contact Constance Colthorp, Communications Manager (const@umich.edu). Thank you!