You are here
What is an award?
An award results when a proposal is funded by a sponsor and that sponsor issues a grant, contract or cooperative agreement to U-M. 
What happens when U-M receives the award?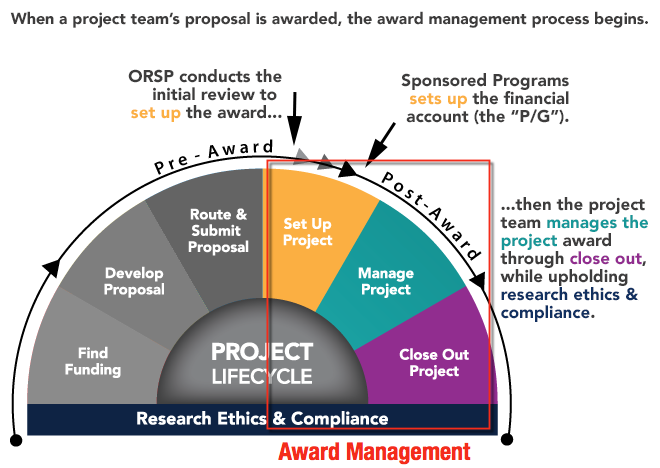 Project Representatives from the University of Michigan's Office of Research and Sponsored Projects (ORSP), under the Office of Research, must review the award and prepare the award for set up in the eResearch Proposal Management (eRPM) system.
Once the new award is internally reviewed, approved, and ready, staff from the Finance - Sponsored Programs office activate an Award (AWD) record (e.g., AWD000001) in eRPM.
Certain project team members will receive system-generated email notifications informing them that the AWD has been created in eRPM. That notice provides the AWD number and the Project/Grant (P/G) number in M-Pathways Financials, the U-M accounting system, for the project. 
(Learn more about the new Award Management functionality.)
Where can a project team review the details of an award?
The AWD record in eRPM contains attachments and details including the terms and conditions, key personnel, and other items that the project team can review.
How do I get the funds?
Every award is different. You must read the Award, and any details in the Sponsor Guidelines to understand how and when you will receive the funds. You need a P/G number set up to start spending. After you've reviewed the award you can contact your assigned Finance - Sponsored Programs Customer Service Representative with questions.
Should the PI want to modify the budget distribution, the proposed changes may be made on a Budget Reallocation Form, which should then be routed through the normal approval process.
What if I need to make changes to the award?
To start an Award Change Request (ACR), use the Request Action/Modification activity in the eRPM Award record and upload a signed copy of the Post Award Change Request (PACR) form to request changes to the award. Subsequent changes in terms and conditions, additional funding, time extensions, and other modifications may require ORSP staff to complete a Modification (MOD) to the AWD record in eRPM. Completed  ACRs and MODs can be reviewed and accessed through the Modifications tab in the AWD record.