You are here
I need an eRA Commons ID to submit my RPPR. Where do I start?
To begin using eRA Commons, you must register for a Commons ID. Please be sure to use your U-M email when completing the registration.
[ Requires your U-M uniqname and Kerberos password ]
Once the eRA Commons ID is established, a PI can assign privileges to staff and collaborators of updating personal profiles and assisting in submitting a non-competing renewal.
[Kerberos password login may be required]
This page is designed to provide U-M project teams (research adminstrators and principal investigators) with the necessary information to complete the required National Institutes of Health (NIH) Research Performance Progress Report (RPPR).
What is an RPPR?
Research Performance Progress Reports (RPPRs) are required annually to document accomplishments and compliance with terms of the award. The RPPR process requires that progress report submissions are due either 60 or 45 days prior to the new budget period start date. 
60 Days 
45 Days 
They update scientific progress, significant changes, personnel, and plans for the subsequent budget period.
How do I submit Progress Reports (RPPRs)?
Route to ORSP Staff and check for errors. 
ORSP Support Staff may be alerted that a Project Team has routed the RPPR for review and submission by receiving: 

an email notification from eRA Commons 
an email message from the PR
an eRPM email notification alerting you that the

Project Team has submitted the Key Personnel Form. In this case, you should search in eRA Commons to see if the RPPR was routed to the wrong person for review. eRA Commons – Route to ORSP Staff Reviewer
In eRA Commons, click RPPR and then search for applications with a Status of "Reviewer Work in Progress."
Click the Grant Number to view the Application Information. eRA Commons – Application Information
Click Route and select the appropriate ORSP Staff person's name to assign them as the reviewer, or click Recall to assign the application to yourself. Note: RPPRs that have been assigned to you display in your RPPR Inbox. 
Click Check for Errors. If any errors display, continue with step 5. If no errors display, skip to Phase III.

ORSP gets the email alert from eRA Commons and then ORSP goes into the eResearch Proposal Management System (eRPM) to see if the project team has returned its Key Personnel Financial Conflict of Interest (FCOI) spreadsheet and contacts the team if the form is not returned or the form is incomplete.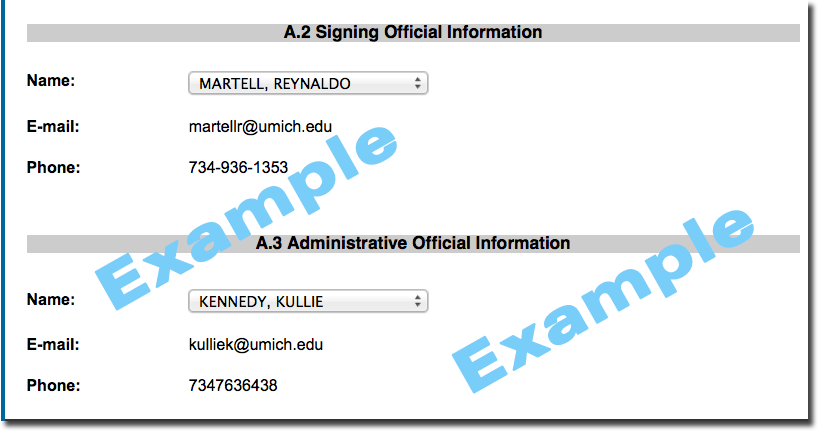 On the cover page, whom should I include as Officials?
Signing Official (choose your ORSP Project Representative)
Administrative Official (choose the ORSP Project Representative from your PAF)
Special Reporting - Performance Sites
Please remember that our Congressional District is now MI-012 (changed several years ago) and our address is 3003 S. State St., Ann Arbor, MI 48108.
Each performance site should only be listed one time.
What is this warning about a non-compliant publication?
If you have already consulted the helpful NIH Public Access site, and are still unable to come into compliance, the U-M Library staff may be able to assist. Send an email request for assistance to: nihms-library-support@umich.edu.